Are you looking for frugal Christmas gift ideas and thinking about going DIY this year?
One thing I love doing is turning on a Christmas music marathon, lighting the fireplace, and making some Christmas gifts.
But some get turned off by the idea of making gifts pretty quickly. They think that it's only baking something or that you have to be crafty.
Think again, friend!
There are tons of ideas out there that are outside of just baking gifts. Check out the list below to see which category you fall into and what you can start making today.
And if you need even more ideas to save money for Christmas, check out our list of ways to have a frugal and fun Christmas this year!
For the woodworker
Recipe holder
I made these for Christmas gifts one year! They were easy to make, and they were used for everything from recipes to hold a book to pictures. Check out the step-by-step tutorial at The Learner Observer.
Jewelry holder
This is a great gift for a jewelry lover. I really like this idea for someone who might have quite a few pieces of jewelry and they might be stuffed away into boxes. This is a good one for letting them display their jewelry! Check out the tutorial over at Live Laugh Rowe.
Christmas tree shelf
Oh my goodness, this thing is too cute! I can see putting Christmas decorations on it, or even little stocking stuffers or smaller Christmas gifts. Plus as a bonus, hooks are on the bottom to hang stockings, keys, garland, whatever you want! Make your own version using the tutorial over on Jaime's page.
DIY beer tote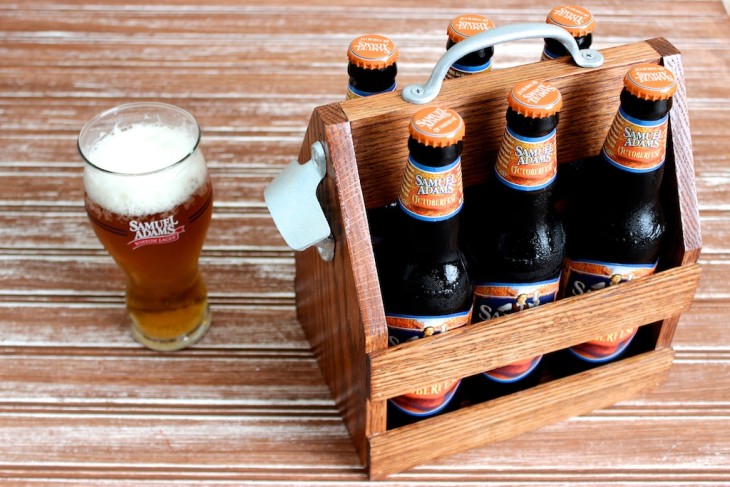 This thing is cool. It's a beer tote and bottle opener all in one! Great gift for any beer-lover in your circle. Jamison walks you through the whole building process here!
Industrial pipe clock
If you have an industrial/rustic decor lover, this gift is absolutely perfect for them! It's so original and a really interesting statement piece for the house. Head over to Dwelling in Happiness to build it yourself!
For the picture-lover
Photo magnets
These are fun ideas for just about anyone and will likely be something friends and family will use for a long time. They can be picture holders on the fridge, put up recipes or good report cards, or just to admire!
Christine at Where The Smiles Have Been breaks down the cost: less than $3 for 20 magnets! What a deal! Get started on your own version of these magnets using Christine's in-depth tutorial.
Note: if you don't have the Silhouette machine mentioned in the first tutorial, check out this tutorial with no big equipment needed.
Mason jar lid photo magnets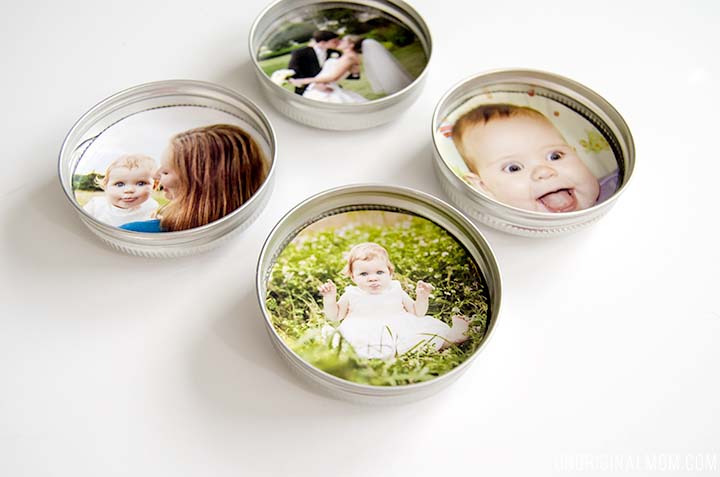 Here's another version of photo magnets, but in cute mason jar lid form. And there are only three things needed to make these cute gifts! Start choosing some sweet, funny, silly, or memorable pictures and create your own using Meredith's tutorial.
Hand print photo frame
This is a good one for Christmas ideas for family fun. Because you can easily involve the whole family to make them!
I think we're going to make these every year now. Not only to document the kids's hand sizes over the years, but for the cute picture frame. It can even become a fun tradition! Check out the tutorial at Messy Little Monster.
Paint sample wall art
This beautiful piece of wall art could technically fit into a different category, but since it's a picture to hang up, I'm going to include it here. And how innovative! It's created using paint sample cards! Check out Jessica's tutorial at How About Orange.
Fun picture puzzle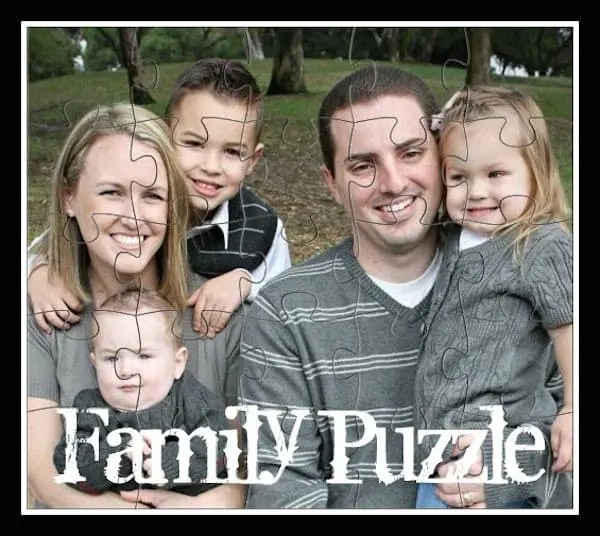 These are great for any age! You can make a fun, colorful puzzle with big pieces for younger kids. Or you could make a more elaborate puzzle with a funny family picture for the older crowd! Head over to Stephanie's tutorial on Modge Podge Rocks to start making this fun gift now.
For the crafter
DIY personalized mugs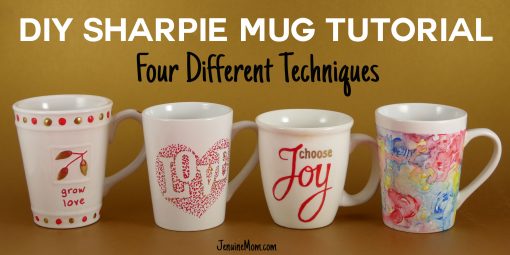 I like these because you can get anyone in the family to draw and make fun, personalized mugs for Christmas gifts. We might even do these this year and put our 2 year old's handprints on it. Head over to Jennifer's page to make your own version for friends and family!
Photo coasters
I made these one year and they were A HIT! I did more sentimental pictures of the family for some, and hilarious, close-up ugly pictures for others. They're still being used today!
I definitely recommend putting your own spin on these for gifts this year. Check out Heidi's tutorial here.
Mason jar Christmas candles
Okay, I am loving these mason jar candles. Especially since you get to see different stages of it: first, just snow through the Christmas tree cut-out and the candle lies on top. Then, the candle popping through the Christmas tree cut-out with snow! Finally, just the candle through the cut-out. It's so cute!
Check out these sweet candle ideas over at Mason Jar Crafts.
DIY beeswax candle
I love candles, and throw in the fact that it's homemade and I know all of the ingredients: I'm sold! Here's a link to a DIY beeswax candle.
For the baker
Homemade jam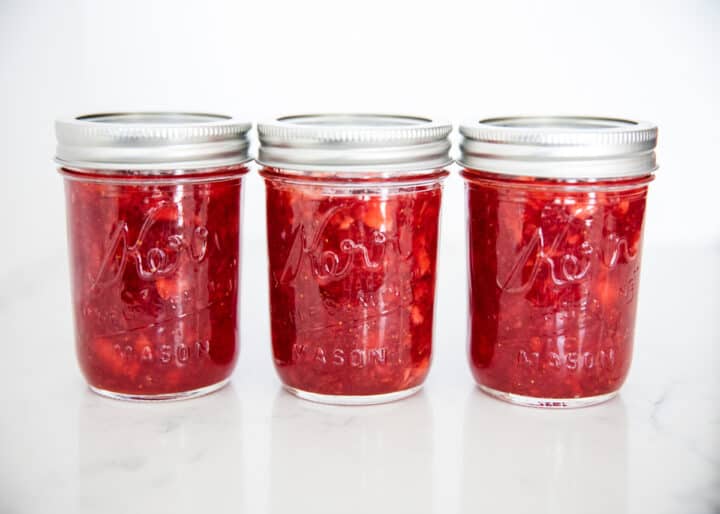 I decided we are going to make homemade jam for friends and family this year. Everyone likes jam, right? We might even pair it with homemade bread or biscuits for a complete pairing! Check out Jamielyn's simple strawberry jam tutorial, or use your own fruit blends for a different flavor.
Tons of great baking ideas
Just look at these delicious, homemade peppermint patties. Meredith has a long list of delicious Christmas treats that your friends and family will love! There are cookies, candies, desserts, and breads to look through. Head over to Meredith's long list of delicious ideas.
For the sewer/crocheter/knitter
Zippered clutch
Who can't use a small clutch in your life? They can be used as a makeshift wallet so you don't have to carry a large purse, could be used for travel, for so many different things! Stef walks you through the entire process here.
DIY heat pack
This would be a super simple sewing job! Plus, I don't know anyone who couldn't use a heat pack. You don't need much to get started on this heat pack. Plus, you can use your own favorite essential oils to personalize it even more! Check out Claire's simple tutorial here.
Camera strap sewing tutorial
Know of someone who has a nice camera, but not a nice camera strap? You can get super personalized with this idea! It just takes some fabric and an existing camera strap that needs some help. Michelle walks you through the whole thing here.
Ice cream phone holder
If you know someone who needs a new phone holder, check out this super cute ice cream case. It looks simple to make, and is a really cute idea. Bonus: you can add a ring for your keys! Check out the tutorial at Straight Stitch Society.
Crocheted advent calendar
If you know how to crochet, this would be a really sweet gift. I love the different display options Beth adds to this tutorial too! Also, you could fill each stocking up before you gift it or leave them to be filled. Head over to Whistle and Ivy for a tutorial.
For the "I just don't fit into any of those categories"
Hot chocolate reindeer
Who doesn't love hot chocolate? This one is as simple as buying the ingredients for hot cocoa and placing them in a cute bag. Add on a few cute pieces of decor and you've got a gift. Easy! Check out the tutorial at Everyday Savvy.
Slippers with a bonus gift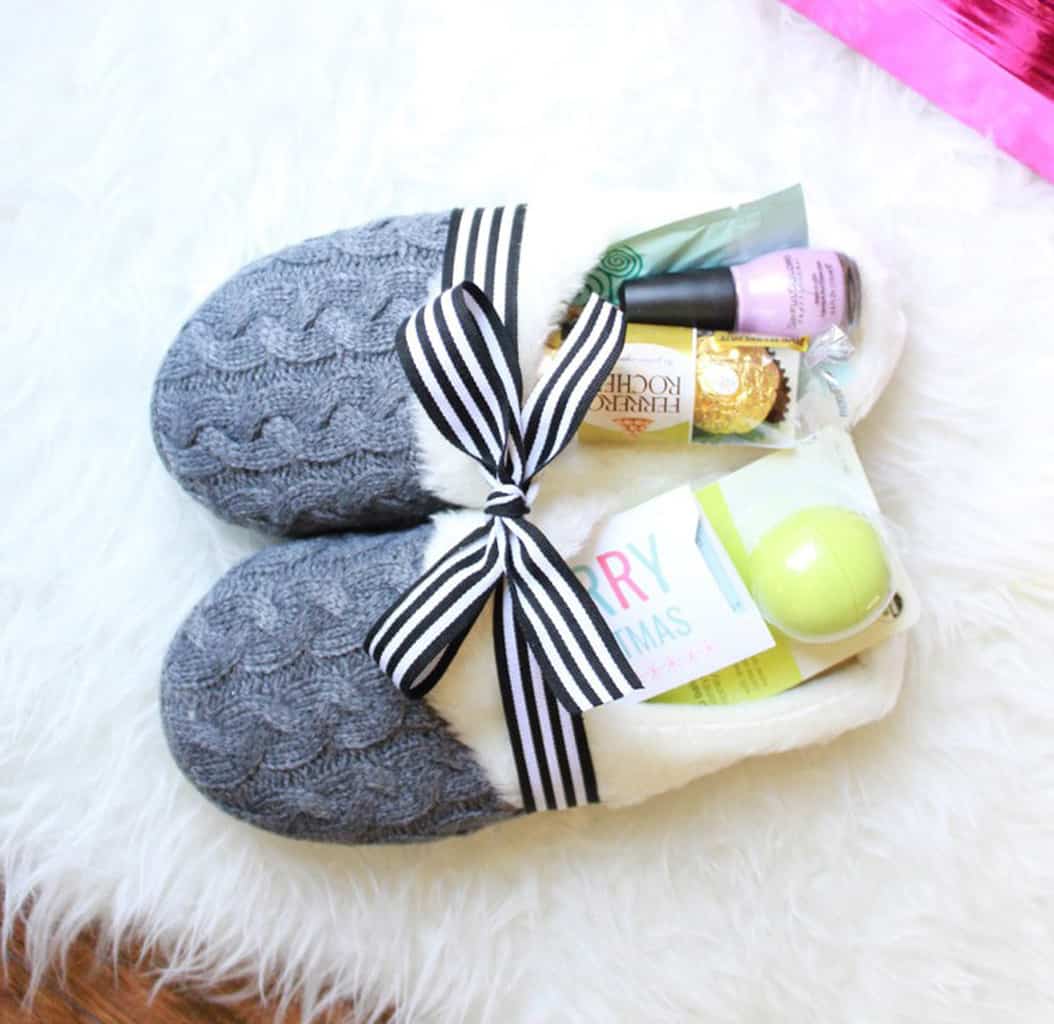 This cute gift requires zero "made by hand" skills! Gather up a cozy pair of slippers, some of the person's favorite things, and you've got a personalized and very usable gift. Check out some ideas for fun gifts to add to slippers for an inexpensive and easy DIY gift!
I had to include just one more version of Christmas slipper gifts. One, because they're just so easy and practical, and two, because Annie at Savvy Honey has some great ideas to bundle in your slipper gifts!
Gingerbread body butter
Here's some super simple (and I'm sure delicious smelling!) body butter you can whip up in just a few minutes. Place it in a cute container, and you're done! Check out Jill's full tutorial here.
Dry soup jars
I really like these DIY dry soup kits because you don't have to have a lot of knowledge (just use their different soup recipes) about soup, but it's still a really great gift. Monica at The Yummy Life puts together a super-comprehensive list of 8 delicious dry soups. These are meant for single servings, so if you want to make for a family, just grab a larger mason jar and 2x/3x/4x the recipe. Delicious!
DIY lip balm
Need something fast? This lip balm can be whipped up in 5 minutes or less! It's simple and you can easily put your own spin on it. Head on over to The Seasoned Mom to make this lip balm with just three ingredients.
That's our list of frugal Christmas gift ideas!
Have you made your own Christmas presents before? What tips can you share about having a money saving Christmas?
I'd love to hear from you in the comments!